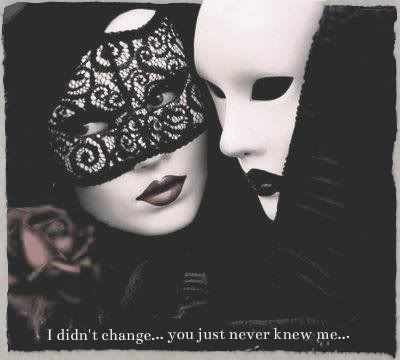 The Meet...
The Attraction...
The Infatuation...
The Lust...
The Courtship...
The Relationship begins...
He seems perfect...
She seems perfect...
Partners both begin with clean slates.
I have written, several times about finding that someone who is
perfect for you
throughout my past articles, because it is one of the most important realizations to have when choosing a partner.
It is no secret in that, when one meets someone new and exciting, one tends to see through blinders. Those blinders are what will undoubtedly blur ones vision, which in turn will totally confuse ones judgement as to who that person really is. This also being interpreted as, 'We only see, what or whom , we want to see, or what I deem as, 'the stage of masks'.
Fact, you want to be on your best behavior in the beginning of any new relationship and yes, the new feeling of attraction is so perfect that you do not want to chance loosing it by being your, 'real selves'. Your subconscious tends to play hide and seek with what you choose to accept in this new person.
At this point, it is vital to realize whether he or she is perfect for you because you want to see them that way or because they are actually perfect for you.
'Patience is a virtue' a proverbial phrase that speaks volumes in just 4 words. These words are the pillars in which the foundation of your new relationship should be built on.
By taking your time in getting to know this new person you have allowed into your life, and by allowing the relationship to evolve and grow naturally, you will not find yourself trapped in the stages of, "I didn't change, you just never knew me".
I have yet to read anywhere that there is any time constraint on committing to a new relationship... by knowing thyself, then and only then will you truly be able understand the importance of knowing that new person in your life.
~ Time is not of the essence when getting to know that new someone, patience is~
DorothyL